Exclusive Discounts, Codes and Links
YOUR EXCLUSIVE DISCOUNT CODES & LINKS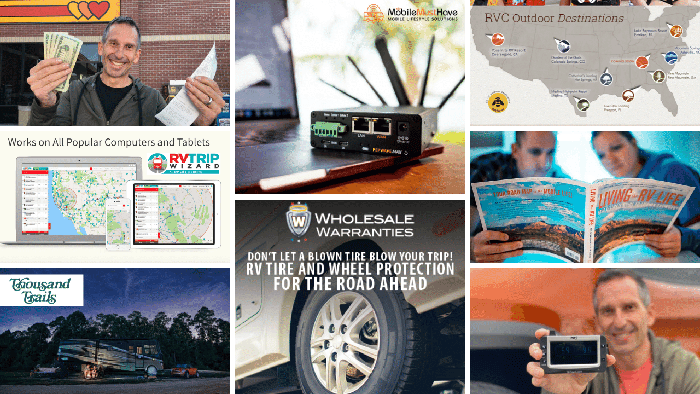 We've packed this Summit full of value – even beyond all the awesome content – with a treasure trove of exclusive discounts and awesome prizes!
Here you will find all the details of your Exclusive Summit Discount Codes, Bonuses, and Prize Draws – for the Hit the Road RV Summit.
OK, let's dive into all of your goodies!
---

There are SO many great offers in here! Your special links and discount codes are listed below – thanks to our summit sponsors and partners!
Thousand Trails – RV LIFE / RV Trip Wizard – Wholesale Warranties – Mobile Internet Resource Center – Mobile Must Have – The RV Entrepreneur – Boondockers Welcome – and More!
Many of these codes have an expiry date so you'll need to act quickly to get them! Have fun!

SAVE $150 on a Thousand Trails Zone Camping Pass! We, along with a few other speakers, shared throughout the summit how we have saved on camping fees with our Thousand Trails (TT) camping memberships.
We want to give Thousand Trails a big shout out and say thanks for sponsoring the summit with these great discounts and offers. BTW, it's rare to see a $150 discount on a TT Zone Pass, so if you're thinking about getting one, this is a great deal and a summit exclusive. As you will see on their website, the standard offer right now is only $100, so you save an extra $50, by being part of the RV Summit.

SAVE 50% on the RV Trip Wizard / RV LIFE App Bundle until July 5!
In Session #19, Marc shared Tips and Tools for RV Trip Planning and Travel, and RV Trip Wizard is one of our favorite tools for that. Here is the link and coupon code to save 50% off the $39 RV Trip Wizard / RVLIFE App bundle, that we use and recommend.
Save 50% on RV Trip Wizard – use code SUMMIT-50 at: http://www.hittheroadrvsummit.com/rvtripwizard – expires July 5
After you buy RV Trip Wizard, download the RVLIFE app (for free) on your smart phone or tablet, then log in using your RVTW credentials
This code alone will save you $19.50, on the usual $39 price. This is an exclusive RV summit offer that you won't find anywhere else. They have also donated 10 RV Trip Wizard / RV LIFE app bundles to give away! (5 for regular prize draw and 5 for LTA/VIP draw).

Get a Free RV Extended Warranty Quote (Obligation Free). In Session #20, 7 Ways to Save Money While RVing, Julie shared how an RV extended warranty can help control RV repair expenses and avoid unexpected 'surprises'. It's a good idea to at least get a quote to decide if this is right for you or not, as part of your RV research and budgeting.
An RV extended warranty offers peace of mind when buying a new or used RV. And you don't have to buy a NEW RV just for an RV manufacturer warranty, which generally only lasts for 1 year (and may be more limiting than you realize). If you buy a used RV, you will save on depreciation and can buy an RV extended warranty to cover many of your RV repair costs, for up to 6 years.

SAVE $5 at Mobile Internet Resource Center. In Session #17, mobile connectivity experts Chris and Cherie explained how you can stay connected on the road to work and play while you travel. They have offered up these goodies for you:
If you are enrolled in the VIP Success Bundle, keep an eye out for a separate email with your "extra special bigger" discount code. They have also kindly donated a one year membership and course from Mobile Internet Resource Center (valued at $198) for the prize draw – thanks Chris and Cherie!

Save 5% Site-wide at Mobile Must Have. In Session #18, Erik talked about the gear he (and we) and many others use to create a robust, internet connectivity solution during our RV travels. Here's what he is offering:
Save 5% on all gear site-wide, at Mobile Must when you use the code RVLOVE at: http://www.hittheroadrvsummit.com/mobilemusthave
We will be giving away $50 gift certificates for Mobile Must Have in the prize draw
We'll also be giving away a TST Tire Pressure Monitoring System (value $400)
You can find the mobile connectivity gear we have in our RV at the Mobile Must Have store:
Marc also showed a couple of items in his RV Safety Video Session #12 – you can find these the Mobile Must Have Store and use the code RVLOVE to SAVE 5%.
Those with a Lifetime Access Pass or VIP Success Bundle, you'll also be in the draw to win a Mobile Must Have Connectivity Bundle with a Pepwave Router and Roof Antenna, valued at around $750 plus two more $50 gift certificates. TIP: Your chances of winning are significantly higher, with fewer people in the prize pool for the LTA/VIP Passes :) Thanks Erik and Mobile Must Have for your generosity!

SAVE 20% at The RV Entrepreneur which is run Heath and Alyssa Padgett, who did their own RV Entrepreneur Summit just a few months ago. They have kindly offered up a 20% discount PLUS 3 free e-books to help you with ways to work from the road!
Heath and Alyssa also run a great RV Entrepreneur Facebook community which you will find here: https://www.facebook.com/groups/makemoneyrving

SAVE 20% at Boondockers Welcome. In Session #7, Julie talked about Boondockers Welcome as a great way to save – staying overnight in your RV for free, as a guest on the property of private Hosts. around North America.
A One Year membership is $50, but you will save $10 with our Summit exclusive discount.

The Summit day really kept us hopping, so we are now doing 2 live prize drawings this week, via the Hit the Road RV Facebook Page – at 5PM CENTRAL Time on Thursday 18th and Friday 19th June. It would be great to see you there while we are drawing all the winners!
Join us here for the live drawing: https://hittheroadrvsummit.com/facebookpage and we will upload both prize draw videos here, after the drawing.
We are giving away over 45 prizes! All generously donated by our partners, sponsors and friends, including: RVC Outdoor Destinations, Wholesale Warranties, Thousand Trails, Boondockers Welcome, Mobile Internet Resource Center, RVLIFE/RV Trip Wizard, Mobile Must Have, RVLove, The RV Atlas, Honeytrek, Audrey Callahan Music, Thousand Trails, The RVers TV show.
THANK YOU ALL SO MUCH!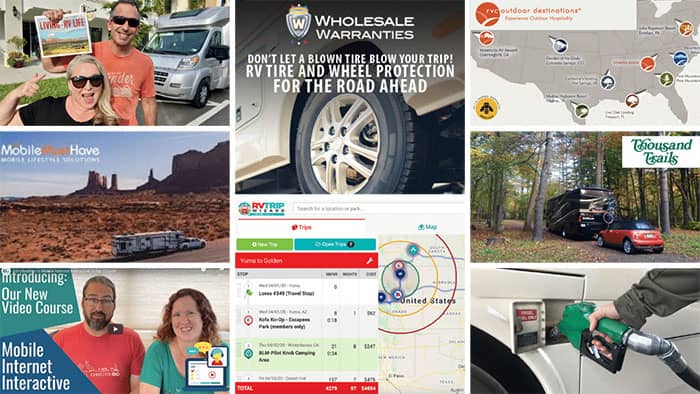 Everyone who registered for the Summit is eligible to win most of the prizes. There are a few extra prizes for those with the LifeTime Access Pass or VIP Success Bundle. Those prizes will be drawn on Friday, after we draw the regular prize draw winners.

All winners will be selected randomly from a random number generator. No skill is needed and y

ou do not need to be present to win. We will email Summit attendees to notify of the prize winners. If prize winners don't respond to our email(s) within 7 days, we will do a re-draw – to ensure all of the prizes are distributed.
---

A final note on the other bonuses, for those who purchased the VIP Success Bundle. We will email you personally with:
The "Extra Discount" Special Code for Mobile Internet Resource Center
Invitation to Live Q&A Zoom Call with: RVLove and Cowboy of Gatesville RV Service and Sales, TX – Friday, June 26. Bring your questions!
Invites to Live Q&A Zoom Calls with RVLove and: Duane Lipham of RV Inspection and Care // Erik McCauley of Mobile Must Have // Jeff Shelton of Wholesale Warranties (Dates TBC).
NOTE: If you already have the Summit Lifetime Access Pass and want to upgrade to the VIP Success Bundle (which includes the summit content) we'll refund what you already paid for the LTA Pass (up to Friday June 19, 2020).
---
Thank You!
As you have seen, our speakers, partners, sponsors have been SO generous in supporting this event. Thanks to them all! And thank YOU for signing up, showing up, and investing in yourself and your RV education. We're excited for your new RV adventures!
---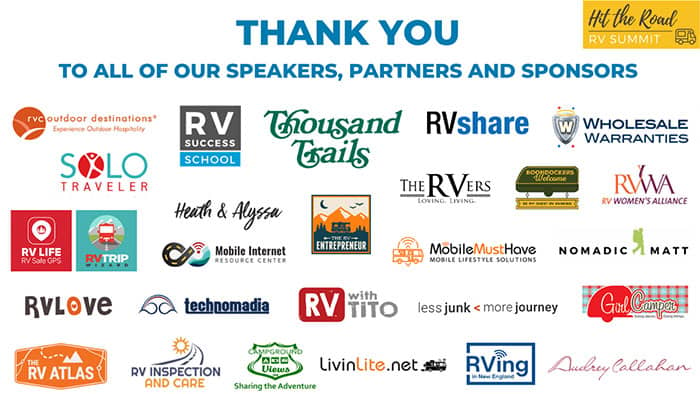 ---
Soon, we'll be sending you a survey link to get your feedback on the Summit so we can make the next one even better. Based on the positive feedback that has been rolling in, we've already started planning a second Summit! Thanks again for joining us!
Best of LIFE
Marc and Julie
PS. Missed the free RV Summit on June 16? Or want to re-watch the sessions? All 13+ hours of video content are now available for your viewing pleasure, so grab your Lifetime Access Pass here and start watching – Available for $97.

During our RV summit sessions and RV Tour, we showed a lot of the RV and safety gear we use that enhances our RV Life (like our Rhinoflex Sewer Hose and Viair Air Compressor!
Here are some more helpful links to bookmark or keep in a handy place for easy reference, as you continue your RV learning journey.