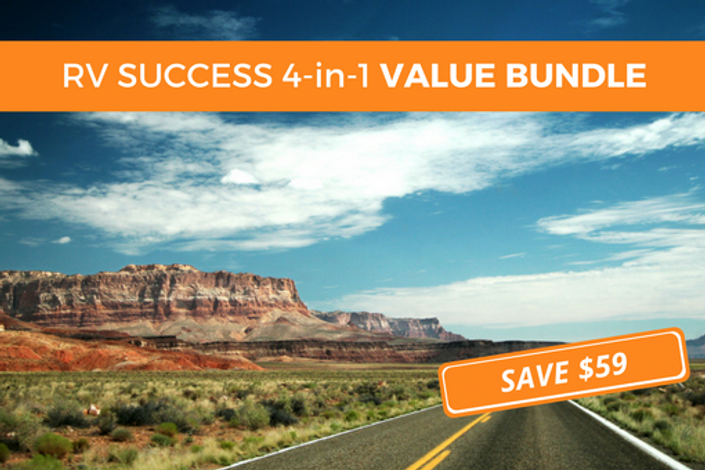 RV Success 4-in-1 Value Bundle
Bundle all four courses at substantial savings to get all of the content. Best value with loads of information, workbooks, tools and resources
If you are serious about getting all of the information, education and guidance you need to make the best decisions AND you want to get the most bang for your buck, this Value Bundle is the one we recommend.
What do you get?
The Value bundle gives you access to all 4 courses, including:
Hit the Road the Right Way
Choosing the Right RV for You
RVer Success Stories – Series #1
RVer Success Stories -- Series #2
Live Webinar and Q&As
Plus, all related workbooks, tools and resources
This Value Bundle is offered at a substantial discount compared to purchasing the courses individually. In fact, you will have access to all 4 courses for less than it would cost to buy our 2 main courses. And, the Live Webinars and dozens of recorded calls are only available to students who purchase bundles.
Lifetime access, grandfathered in
We will be continuing to refine and add content to these courses in response to feedback and industry developments, so you will also benefit from any future improvements or additions that we make, at no extra cost to you. This course bundle is a one-time investment.
Learn in your own time, at your own pace – at home or on-the-go
This is online learning at its best. You can view the material on your home computer, tablet and even on your smartphone so you are able to review information and learn on the go. Most lessons start with a video overview of the topic, and follow up with written information for more details. To enhance and guide your learning experience, we have also included downloadable workbooks and other tools to assist you in the educational process, keep you focused on what's most important and enhance your results.
Why RV Success School courses are different
Before we hit the road in our RV, we spent hundreds and hundreds of hours researching, planning and shopping before successfully making our purchase. Since that time, we have lived and breathed the lifestyle as full-time RVers and continued to ask questions and learn from other RVers and industry experts along the way. This is our passion and we're not afraid to show it or share it.
Our research has helped us avoid many of the pains and pitfalls experienced by so many RVers, especially those venturing into the world of extended RV travel. Yes, it is undeniably an amazing lifestyle, but rushing the process or making the wrong decisions can literally cost you thousands, if not tens of thousands of dollars. We aren't here to offer a quick fix or a magic pill, but to provide the inspiration, resources and guidance to get you to where you want to go, the best way possible.
Proven track record
We have already helped hundreds of people save thousands of dollars through the valuable content, tips and education we have shared on our RVLove website and YouTube videos. And, we have personally spent many hours helping others avoid mistakes and supporting their transition into the RV lifestyle. That's why we created Rv Success School – so we can help thousands of others do the same.
We have compressed several thousand hours of research, learning and experience into this series of focused, guided courses – broken into easy to understand lessons that will help you learn what matters quickly and efficiently. By following the steps and guidance in these courses, you will be able to make the most critical and complex decisions with clarity and confidence.
Why us?
Good question. Honestly, we believe there is nothing else out there like what we have created with RV Success School to help guide wannabe and newbie RVers on their journey. Yes, there's other information out there. A lot of it is free, as is the content we share on our RVLove website and YouTube channel. Some information out there is good and some we find questionable, and frankly, it takes a lot of time and patience to weed through it all. You will find conflicting information everywhere you turn which leads to overwhelm and more confusion. It can be hard to know what to believe and who to trust. For over 5 years, we've shared in depth content and built a large, loyal community that respects and appreciates our honesty, transparency, knowledge and experience.
In a world of information overload, RV Success School is designed to cut through the clutter and noise and provide you with you sound advice, a solid education and recommended resources for further learning – all in an enjoyable learning environment devoid of flashing ads and other distractions.
We're here to guide you to asking the right questions and ultimately, finding the right answers for you – and not simply project our own opinions, preferences and choices – as you will often find in many forums and social media pages.
We both have career backgrounds helping others transform their lives in positive ways and as thriving full-timer RVers since 2014, we have learned how to navigate each step of the way and come out smiling. The transition to RV living can be just as much of an emotional journey as it is a geographical one, which is something almost nobody else really talks about. Yet if you don't discuss and prepare for all elements of the process, you increase the chances of it not working out in the long term. These courses will help you and your travel companion learn and grow together, guide you to making the right decisions for YOU and – if you follow and apply the teachings, they will absolutely save you time, help you avoid frustration, save you a lot of money – and absolutely enhance your chances of success.
NO RISK: We offer a 30 day money back guarantee if you are not happy with your purchase.
Your Instructor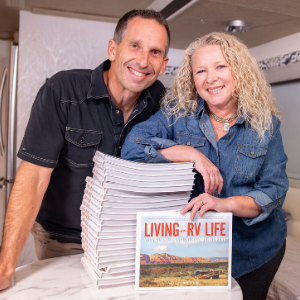 Full-time RVers since 2014 and authors of the bestselling book "Living the RV Life – Your Ultimate Guide to Life on the Road". We've traveled to all 50 USA States (48 in our RV) plus Canada, Mexico and Australia. Done over 20 RV factory tours. Toured close to 1,000 RVs. And helped thousands of people buy an RV and hit the road successfully! We're known for our quality, in-depth, unbiased educational content. For our financial savvy, resourcefulness, and priority on safety. And for living and loving the RV life, no matter what curveballs it may throw us! It's all part of the adventure, and eventually becomes a great campfire story. Learn more at RVLove.com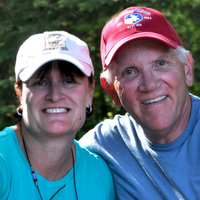 You've got a winner! I thought I was well informed about buying our first RV, but there were many issues I hadn't considered until I took the course. I especially like the Must Haves and Deal Breakers, 2 Step Purchase Process, and Domicile and Keeping a Home Base segments. Barb and I are a few months away from buying our first RV – a gas Class A – and hitting the road for 6-8 months a year. We've been researching RVs for about 6 months, often spinning our wheels on information not useful to our search. Until now. Your courses are a perfect match for those of us who have decided to join the RV life and are looking for relevant, well-researched, unbiased information. One of the things I like best about your courses is how well they are structured from a learning objectives standpoint. I'm a college professor who has created many courses – yours are well structured, interactive, fun to watch and full of good information. We're so glad you offered these courses when you did. We know they'll save us lots of time and money. Hope to see you on the road.
– Mike and Barb Hanley, Carmel, IN
Loving the courses so far. I bought the Value bundle and have started the RV Success Stories portion as well as Choosing the Right RV For You. I love that videos accompany most of the information – for those like my husband who want a more brief lesson, as well as more in-depth written content for people like me, who want every detail possible! TONS of content. I was shocked to see how much went into the planning. I can't wait to get further into the courses, thank you SO much for creating this for people like me looking to get on the road in the near future! GREAT VALUE!
– Melanie Pasqua, Abita Springs, LA
Courses Included with Purchase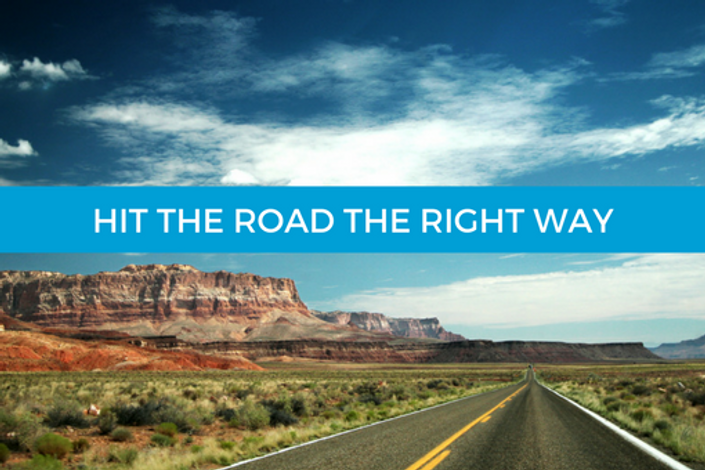 Hit the Road the Right Way in Your RV
Learn how to be a successful RVer with everything you need to know from budgeting and planning to logistics and launch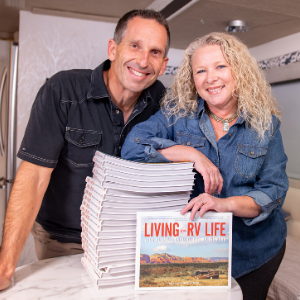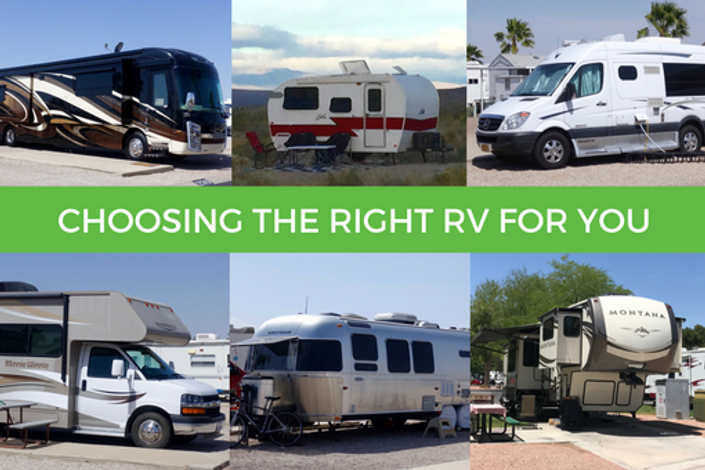 Choosing The Right RV For You
Essential education and guidance for shopping and selecting an RV, maintenance, systems, and safety. Make smart purchasing decisions, negotiate the best price.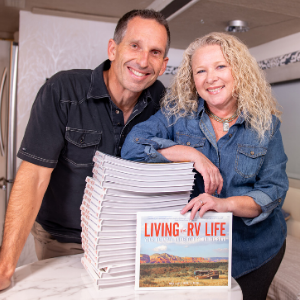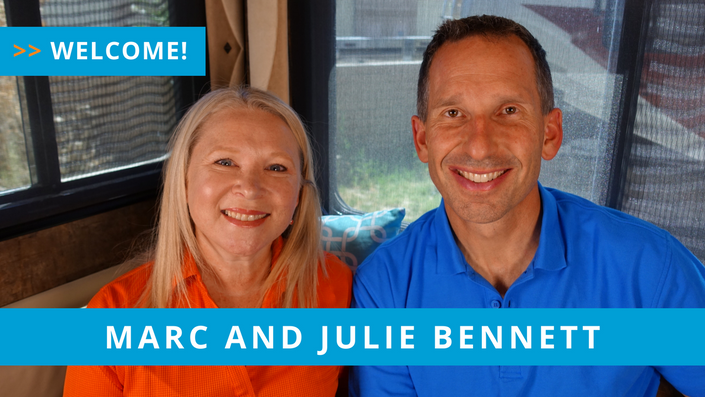 LIVE Webinars and Q&A with Marc and Julie
Series 2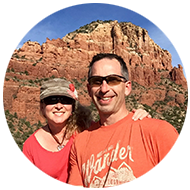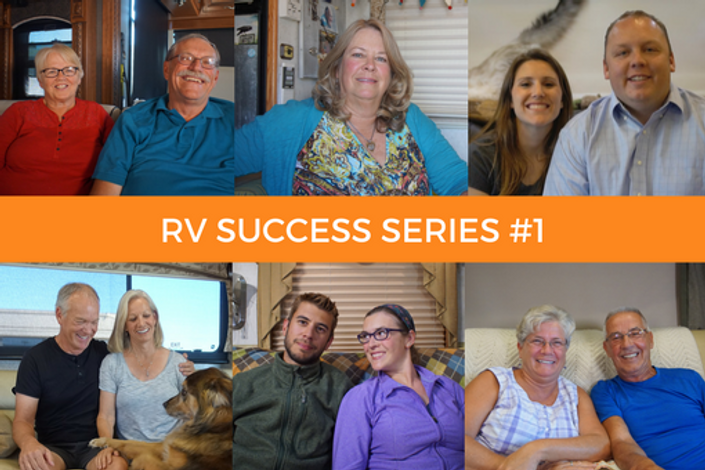 RVer Success Stories Series 1
Learn from the Successes, Challenges, Insights and Lessons From Other Experienced RVers in 5+ Hours of Revealing Video Interviews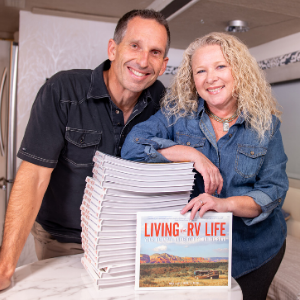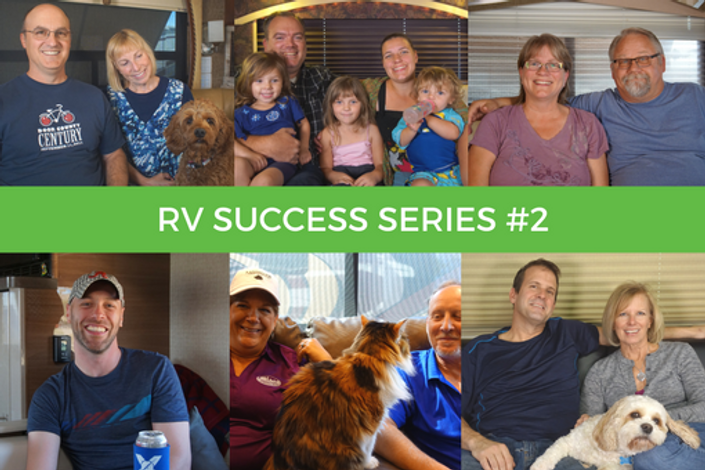 RVer Success Stories Series 2
Learn from More Successes, Challenges, Insights and Lessons From Experienced RVers in More Than 5 Hours of Revealing Video Interviews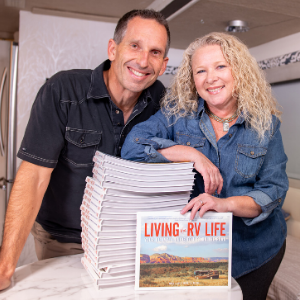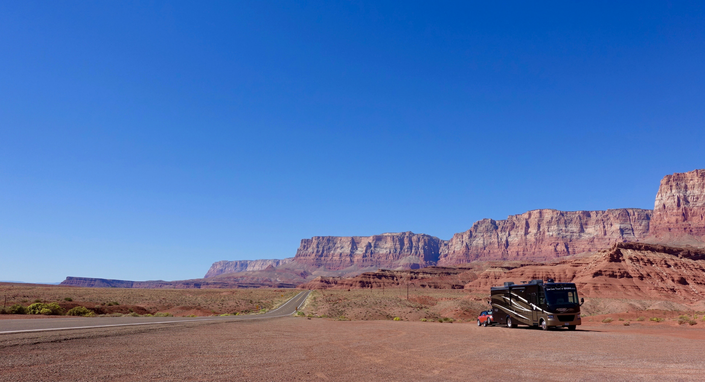 LIVE Webinars with Q&A, Series 1
Bonus Content for Students Enrolled in Bundled Courses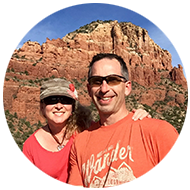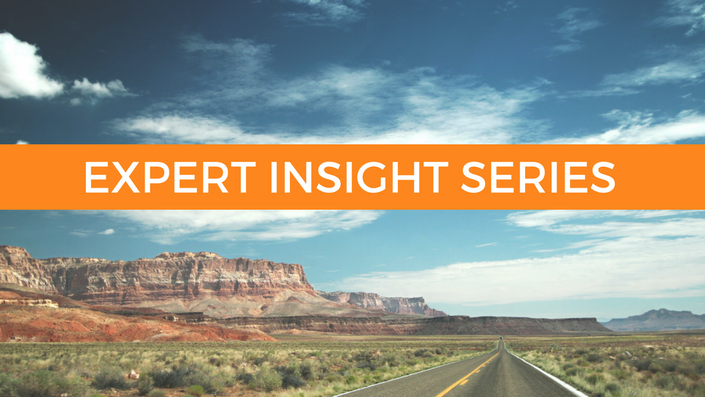 Expert Insights Webinar series
Webinars and Interviews with Industry Experts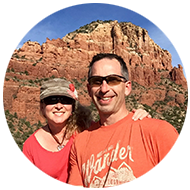 Original Price: $355
Frequently Asked Questions
When does the course start and finish?
The course starts now and never ends! It is a completely self-paced online course - you decide when you start and when you finish.
How long do I have access to the course?
How does lifetime access sound? After enrolling, you have unlimited access to this course for as long as you like - across any and all devices you own.
What if I am unhappy with the course?
We would never want you to be unhappy! If you are unsatisfied with your purchase, contact us in the first 30 days and we will give you a full refund.